It has been an extensive journey. A journey from dream location to creative conception, careful planning and unique design, to firm foundations, The Beach Samui has been a huge labour of love for our creative team.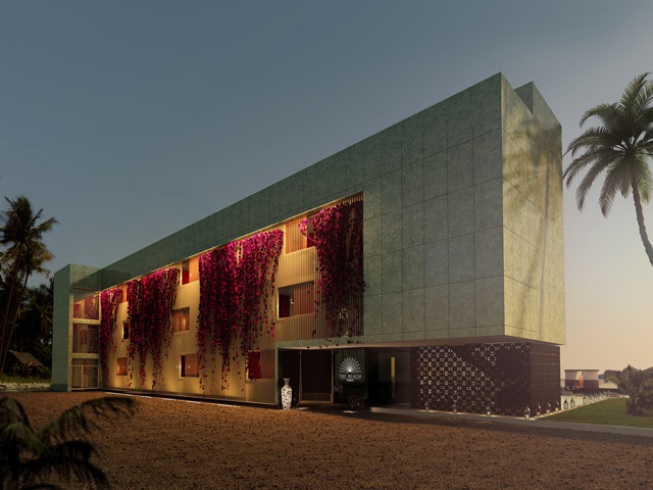 Designing and constructing an outstanding resort that surpasses any benchmark and goes above and beyond convention is a mammoth task and as we all know good things take time, and excellence takes a little longer, The Beach Samui is no exception. Getting it right for you regardless of time, effort and cost is our only priority.
As we enter the final stages of development, work has continued apace, floors and ceilings are finished throughout, the flamboyant and immaculately dressed Sukabumi exterior is completed, the elevator is now in operational. The aluminium-designed frontage is done and looks spectacular against the Chinese-lacquered walls and the green Sukabumi. One show suite is ready for viewing and used as a working model that we are modifying for further improvements and a second show apartment will soon be unveiled.
You will also be able to read about the community integration projects, school education and environmental initiatives and our commitment to creating a harmonious relationship with the Thong Krut's community and its ecology, creating a much more integrated guest experience when you stay with us.
Head of construction, Barry Sullivan is happy to see the first phase of the project near its end. "The Beach Samui has been such a labour of love. I have built hotels, houses and resorts all over the world and dozens here in Thailand and this project surpasses the quality and standard of anything I have created in my 45 year career. Absolute have gone all out on this one, it is not only the greenest building I have every constructed, per square meter it is by far the costliest, and without doubt it is the most sophisticated and certainly the most creative. Bryan Lunt and his super creative team have promised excellence and uber-chic design… they have delivered!"
The final word we will leave to Mr Carsten Lima, Design Hotels™ new Asia Pacific Area Director, who summed up very nicely Absolute's vision on his September site visit: "Thank you for taking your time to invite me inside The Beach Samui universe. After your tour I completely get why you fell for this piece of land and planned for The Beach Samui to be exactly there. I think the integration of the local community is clever; I like the tranquillity and serenity of the place. I am in love with the contrasts from the outside to the interior design which is a so 'beach-chic'. I can continue with the superlatives."
So, we are happy to announce that the final chapter's of The Beach Samui's construction narrative for the end of the building story is near and to be honest, we truly cannot wait to share with you when we open in 2014.