The shortlist for the highly anticipated Thailand Property Awards 2014 was announced today, and The Beach Samui has been nominated for Best Residential Interior Design.
The independent and experienced panel of judges made its final decision after a thorough nomination, entry and judging process, which saw them narrow down the more than 200 entries to just 58 shortlisted winners.
"The Thailand Property Awards has gone from strength to strength every year and 2014 has been no different," said Sunchai Nuengsit, chairman of the judges panel and managing director of BuilderSmart. "The quality of the entries again led to some serious debate amongst the judges, but we feel that the shortlist represents the best in Thai real estate from the last 12 months."
"Although Thailand and its economy have faced uncertain times over the last year, this hasn't affected the quality of this year's entries," said Terry Blackburn, CEO of organisers Ensign Media. "It's also great to see a strong showing from the recently added Khao Yai and Hua Hin categories, as well as from the established destinations such as Phuket and the Eastern Seaboard. I believe this goes to show that the awards continue to be a benchmark for the industry throughout Thailand."
In addition to the development awards, the judging panel also chose projects that display some of the best architecture and design in the country for Best Residential Architectural Design, Best Residential Interior Design and Best Commercial Architectural Design.
All the final Winners and Highly Commended companies and developments will be announced and presented with Thailand Property Awards 2014 trophies and certificates at the Gala Dinner, to be held at the Conrad Bangkok Hotel on 11 September 2014. The winners from each category will be automatically entered for the region's most prestigious real estate event, the South East Asia Property Awards 2014, which will be held in Singapore at the Shangri-La Hotel on 16 October 2014.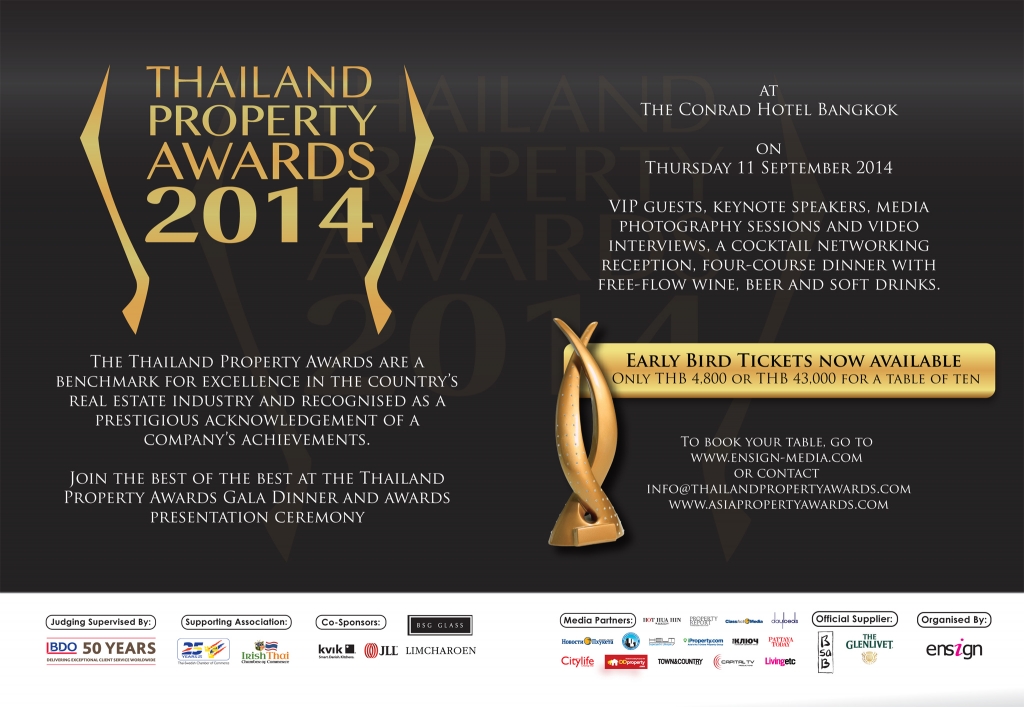 Tickets for the Gala Dinner and Award Ceremony, which will include a cocktail reception and lavish four- course dinner, live entertainment and extensive TV, print and radio media coverage, are still available and can purchased here.
The full shortlist can be viewed here.